Rotating Grill Spit Set XXL / XXL Pro
For more than just crispy chicken or roast
Battery operated grill spit with two holding forks for the BBQ Master XXL and XXL Pro Grills.

Excellent for preparing a chicken or a roast.
You can also try gyros, roast pork, boiled beef, leg of lamb or a vegetable skewer from a spit. Of course, there are no limits to your imagination.
You achieve a much more gentle and even cooking from all sides by
...
Battery operated grill spit with two holding forks for the BBQ Master XXL and XXL Pro Grills.

Excellent for preparing a chicken or a roast.
You can also try gyros, roast pork, boiled beef, leg of lamb or a vegetable skewer from a spit. Of course, there are no limits to your imagination.
You achieve a much more gentle and even cooking from all sides by the constant slow rotation. The roast juice drips less into the grill room and is distributed more evenly over the entire barbecue food due to the constant rotation, which also gives a better crust.

The spit is supplied with a battery motor and mounting material.
A 220V/230V three-phase motor is also available as an option.
Quantity: 2 kg
Version: XXL / XXL Pro
EUR 119.90
incl. VAT
Shipping costs: EUR 0.00
Technical data
Length (without handle): 120cm
Handle: 11.5cm
Scope of delivery
Turning Spike
Battery motor
2 Holding fork
Videos
Passend zu Rotating Grill Spit Set XXL / XXL Pro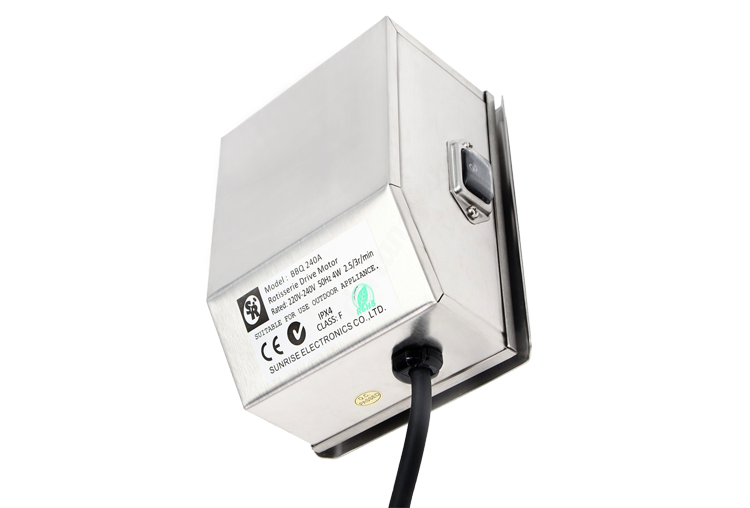 Rotisserie Motor AC 220 /230 V
Rotating spit motor for power connection 220 / 230 V