Grill Cleaner Set (3x500ml) with microfibre cloth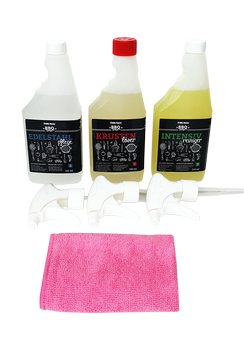 The power trio for optimal cleaning, degreasing and care of your barbecue
Intensive Cleaner 1x 500ml
The intensive cleaner removes grease and oil with a naturally renewable, biologically derived citro-active grease solvent.

Stainless Steel Care 1x 500ml
The stainless steel care offers an environmentally conscious way to care for your barbecue. It provides a radiant shine and lasting protection
...
Intensive Cleaner 1x 500ml
The intensive cleaner removes grease and oil with a naturally renewable, biologically derived citro-active grease solvent.

Stainless Steel Care 1x 500ml
The stainless steel care offers an environmentally conscious way to care for your barbecue. It provides a radiant shine and lasting protection for stainless steel surfaces.

Crust Remover 1x 500ml
The crust remover quickly and effortlessly removes burnt-on grease and frying crusts on the grill.
Quantity: 1500 ml
Version: 3x500ml
incl. VAT
Shipping costs: EUR 8.90
Easy to use
Intensive Cleaner Application
Spray the intensive cleaner with the practical pump sprayer bottle onto the surface to be cleaned, allow to react and wipe off.
Stainless Steel Care
After cleaning with Intensive Cleaner, the Stainless Steel Care is finely and evenly sprayed on and polished with a soft wool cloth in the direction of the cut. Cleaning with the intensive cleaner is recommended for heavily soiled surfaces.
Crust Remover
The heated device is simply sprayed with the Grillex crusty cleaner from the practical pump sprayer bottle and after 5 minutes of exposure time, the yellow dirt is wiped off.
Scope of delivery
BBQ Master Intensive Cleaner 500ml
BBQ Master Stainless Steel Care 500ml
BBQ Master Crust Remover 500ml
Microfibre cloth 40x40 cm